Weekend getaway from Berlin - a Raus Life cabin review
I've had my eye on the Raus Life cabins for a while now. For those unfamiliar, Raus Life is a Berlin startup that offers semi-luxurious accommodations at tiny eco-friendly cabins located in different natural areas around Berlin and Hamburg. The target audience seems to be hipster city dwellers and digital nomads looking to recharge in nature with the promise of tranquility and seclusion but still with the comforts of a premium accommodation. Many of the cabins are within 1-3 hours of Berlin and offer remoteness and solitude in nature while still being accessible by train and bike.
As someone that loves the city but also gets way too overstimulated by the city, I absolutely need time secluded in nature to recharge, so I felt like these cabins were made for me. I had my eye on them for the past year and was always curious to book one for a long weekend. Seems like there are also others like me, because the cabins were almost always booked out for weekends whenever I'd remember to check on their website.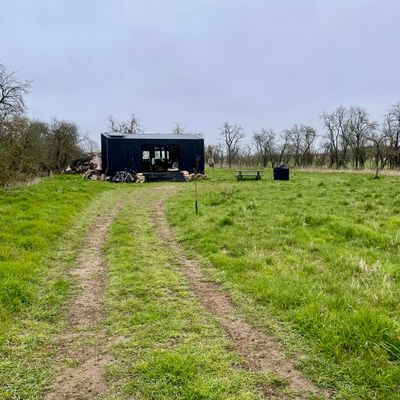 I got better luck snagging a cabin for a stay over the long easter weekend after I subscribed to their newsletter and booked as soon as they notified they released bookings for the spring. They only offer a handful of pet-friendly cabins, so I booked the only one that was near Berlin and still available during that time: Zwetschgenwiese.
Getting there
The cabins vary in location and travel distance from Berlin, but they are generally all accessible by train (and bike) or car.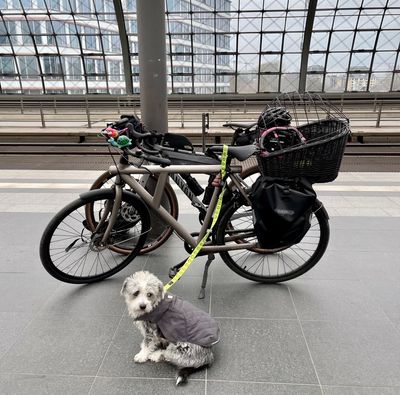 We opted to travel by train and bike. The Zwetschgenwiese cabin is located ~2 hours by train from Berlin Hauptbahnhof (with one transfer). Then, it was a 4km (20min) bike ride to the cabin on farm roads. To transport my small dog while on the bike, he rides in a large dog basket on the rear rack. Be aware that small dogs are supposed to travel in a bag while on the train, otherwise they need to have a reduced fare ticket purchased. On our connecting local trains, we had the ticket controllers comment that he should be in a bag or needs his own ticket. We explained that he normally does travel in a bag on the train but since we are by bike he rides in the bike basket, but during the train ride we took him out so he'd be more comfortable. She was a bit salty, but eventually dropped it. However on her subsequent walk-through the train, my dog wagged and greeted her and won her over with his charm and transformed her mood into a friendlier and more pleasant one. Another thing to note is that on IC/ICE trains that not every train allows bikes and reservations are required on these trains. On regional trains (or the S-bahn in Saxony Anhalt), bike reservations are not required but it's mostly a gamble if the bike carriage will be full or not (I'd bet on it being full with bikes and strollers on the weekends/holidays).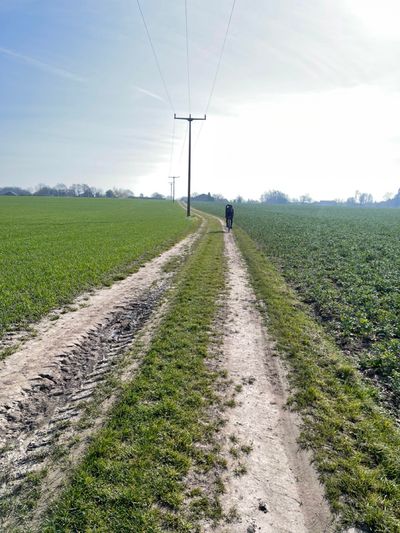 The cabin
The cabin is basically a tiny house built on a trailer. There is a solar panel on the roof to provide electricity. Ours was hooked up to the local water supply, but not sewer connection. The toilet is a dry toilet (this means it's basically a bucket with a really nice toilet seat that has a different section for liquid vs solid waste). The dry toilet is not really a big deal and it never smelled bad, but I'd prepare yourself mentally for using a more rustic camp toilet if that's a new situation for you, especially if you are sharing it with others.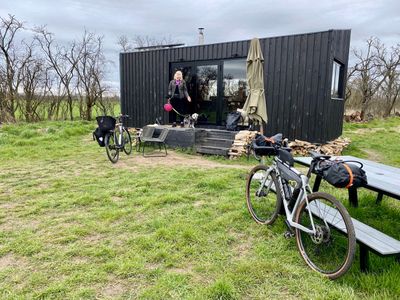 The cabin is equipped like a studio apartment - a separate small bathroom area with shower (and hot water), sink and toilet, and the main living area with wood stove for heating, a small equipped kitchen and a queen-sized bed in the corner. There's also 2 yoga mats, various board games, a lo-fi record player with a few records, a few books, and a bluetooth speaker. There was a picnic table and bbq outside.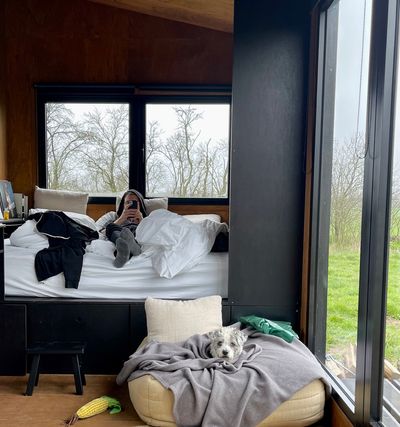 The kitchen is equipped with a dual hob induction cooktop, small fridge, cooking pots & pans, dishes, cutlery, kitchen utensils, cutting boards, wine glasses, and both a chemex and french press for making coffee.
Olive oil, balsamic vinegar, salt, pepper, sugar, ground coffee and sencha tea were also provided.
It was a fairly comfortable space for 3 nights, but it was not insulated as well as I thought it would be - the windows were all single-pane so there was always condensation in the morning on the inside of the glass and it was pretty cold in the mornings, so the first order of business each day was to make a fire. The wood stove was absolutely necessary for us to stay comfortable in the cabin even in April.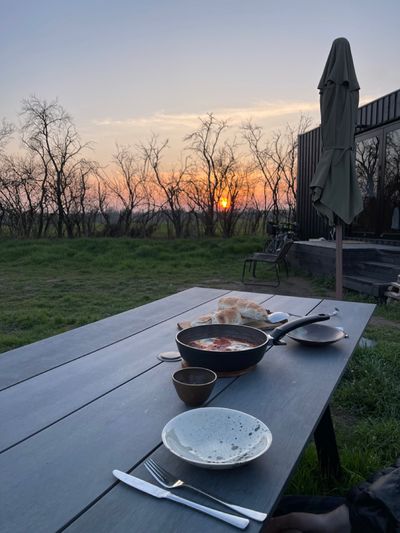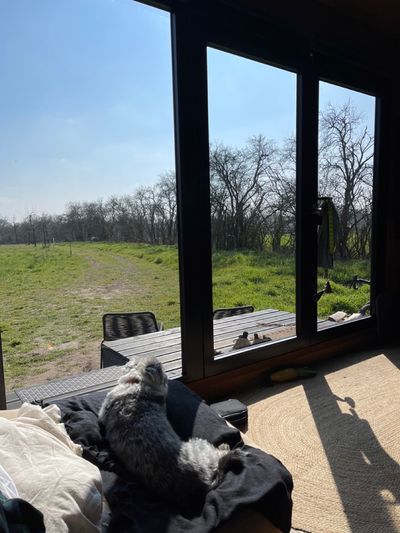 Since the cabin is advertised as more of a high-end boutique cabin experience, there were a few small things that fell short and left me a bit disappointed. I realize I'm out in a meadow with dirt around me, but the large interior rug was in great need of a good vacuuming and cleaning. In general, there was a lot of dust and cobwebs in the cabin. Other small things that annoyed me - the sugar was nearly empty and clumped in the jar, the salt was empty, there weren't any long-burning briquettes as mentioned in the cabin manual (maybe they were unavailable due to the energy crisis this winter?) to keep the cabin warm through the night and the kettle was in need of a cleaning to remove the hard water deposits. I ended up tidying up and vacuuming as much as I could during my stay for my own sake. I know it sounds picky and maybe I'm a bit more sensitive with my neurodivergent brain, but I think these are reasonable little expectations for a cabin advertised as a boutique stay (at a €200+/night price point).
Despite these things, I found the positives of spending time remotely with my dog and partner tremendously rewarding. I would stay in a Raus cabin once again, but I'd opt for one that was even more remote than this location where it would be unlikely to see cars in the distance or encounter anyone else walking through the meadow. It was super relaxing to take long walks in nature with my dog, to watch from the windows the hares scurrying around and bumblebees flying from clover to clover, and to lie in a big bed and drink wine while my partner prepared food and the wood fire crackled.