How to rent a van and camp in Portugal (& Spain)
---
---
Why Portugal?
I love camping in Iceland and it would have been easy for me to fallback to wanting to spend all my time off just camping there since it's comfortable for me - I know all the procedures on how the roads, campsites, and thermal baths work there. But I wanted to challenge my neuorodivergent self to try renting a camper somewhere new. Additionally, since I'm planning to purchase a camper van in the near future, it made sense to explore one of the most popular camping destinations in mainland Europe that would be easily accessible from Germany when I got my own van.
I honestly didn't know much about camping in Portugal, except that it has become a very popular #vanlife instagram destination and I worried about how many people and campers would be there, if the campsites would be packed, and if tourists in campers were thought of negatively by the locals. I realized that through my research that going in February/March would be off-season and I would definitely be avoiding crowded campgrounds.
When I started researching camper rentals, I got a bit of hesitation about going through with the trip. I was a bit worried that all the camper vans rental companies excluded any insurance coverage for vandalism of the vans, so of course I wanted to know if camper vandalism is a big issue in Portugal. This is not something I ever worried about in my camping trips to Iceland. I saw some videos on youtube were campers were targeted for graffiti or broken into. In those cases though, I think they were graffiti since they were "wild" camping in unofficial parking spots in tourist beach areas or didn't take their valuable with them and left them in plain sight in the camper. I planned to stay in designated campsites rather than park overnight in a parking lot, so I worried less about these negative aspects.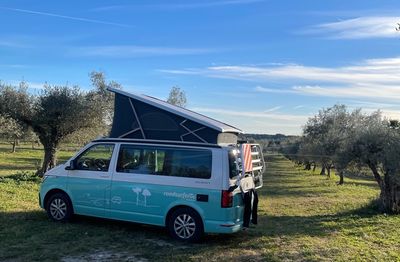 How to choose a camper van rental in Portugal?
I wanted to rent a small camper van with automatic transmission. I didn't need or want a huge RV with a full bathroom/shower. Ideally, I wanted to rent a VW Caddy Maxi since that is the type of van that I'm looking to purchase and convert into a camper in Berlin. I also wanted to travel easily into Spain as well, so I needed to rent from a company that allowed travel outside of Portugal (and didn't charge a huge fee for it).
I decided to a VW Transporter California Surfer Suite with integrated kitchen, heating, and a pop-up roof from the Roadsurfer location in Lisbon. They allow travel outside of Portugal with no additional fee and unlimited kilometers. The extras I added were the chemical toilet, kitchen essentials kit, bedding for 2 and the premium insurance.
The main downside I found about the Roadsurfer campers is that they have custom graphics on the sides of the van that make it obvious you are a tourist in a rented camper. They are also very new campers with low miles, so they did do a thorough check of exterior and interior damage on pickup/drop-off. This is why I opted for the premium insurance just so that I would not be stressed about getting a rock chip or breaking something in the plastic interior during the trip.
I would absolutely opt for the chemical toilet! I mainly got it as piece of mind that I would always have a place to pee if I'm in a remote area of the country or feeling too overwhelmed to find a public toilet, but it ended up being super useful to be able to camp at vineyards without facilities through Portugaleasycamp npmor saving me a very cold dark hike in the snow to the camp toilets in mountains in Spain.
---
How did I plan my itinerary?
I didn't really plan an itinerary. This vacation was an important time for each of us to restore our energy from a lot of stress in the past half year from working, getting covid over the holidays, and moving into a new flat where we were living together for the first time.
Traveling as a neurodivergent/ADHD duo is probably more spontaneous and unstructured than what neurotypical folks do. Vibes and giving ourselves time to feel comfortable in a new place are super important and necessary for us. So, instead of stressing about every detail of each day of our 2 weeks of camping (which would have literally given me an ADHD meltdown if I tried), we focused on the one or two day increments in front of us. So, first we made sure we have a plan for day of arrival and the following day when we pick up the camper van and spend our first night camping.
I booked the camper and flight to Lisbon 2 weeks before our planned departure. Since I knew this was the off-season and demand is low, so availability of flights and campers were not an issue. I would not advise this outside of the winter months though. We would arrive too late in the afternoon to pick up the camper from Roadsurfer, so for the first and only night in Lisbon, I splurged for a boutique hotel room. I searched for campsites within 1-2 of Lisbon for first night using Roadsurfer spots app, park4night, and portugaleasycamp. We opted to try staying overnight at a vineyard for the first night and booked on the portugaleasycamp website. From there, we look at these 3 camping sites in the morning, pick one that looked nice with good reviews and find attractions along the way to stop at during the day. We repeated this for the entire trip (even for the huge detour to see the Bardenas de Reales desert in Spain).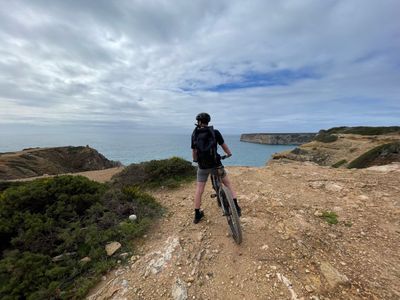 ---
What did I pack?
I only packed my Tom Bihn Aeronaut 45 carry-on bag & my trusty Fjällräven Kånken backpack. I figured it was not necessary for me to bring a lot of items for layering as the temps would be cool but not unbearable. Also, I was ok with washing my underwear and shirts in the sink and letting them dry and re-wear them in order to save luggage space.
Of course the most important non-clothing items I brought were my coffee making supplies! I'm a coffee enthusiast and on every camping trip I daydreamed heavily about the moment each morning where I would prepare an aeropress coffee in the camper van.
How does camping work in Portugal (& Spain)?
I used these 3 sites to find campsites during the trip:
Roadsurfer spots: Campsites with reviews. I avoided booking here since it was always more expensive than directly booking through portugaleasycamp, the campsite's website, or paying on-site.
Park4night: App with not only official campsites but also free "wild" camping spots, parking areas, service areas, all with reviews.
Portugaleasycamp: Website where campers can find farms and vineyards to stay out for overnight stays. It works by purchasing the farm/vineyard's welcome pack (bottles of wine, olive oil, honey, etc) on the website, and then you pick it up at the farm/vineyard and you are allowed to camp there overnight. Note that most farms/vineyards expect you to be in an autonomous camper, meaning they do not have a toilet for use overnight or camp facilities!
Since it was the off-season, there really wasn't a need to prebook anywhere with the exception of Portugaleasycamp! Since portugaleasycamp lists non-traditional campsites like small farms or vineyards, you can't just show up unannounced. Most only have room for a couple campers at most so they require you to book on the website before 2pm for a same-day stay.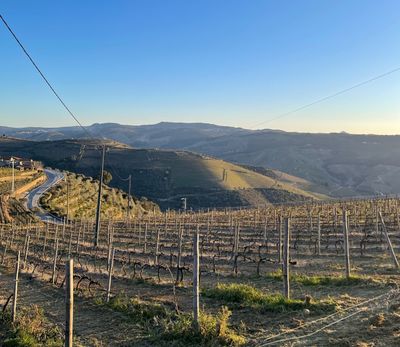 My favorite camping spots
I had good experiences at all the campsites on my completed journey, but these stood out for the location, scenery, and overall high level of comfort and good vibes I felt while I was there:
Quinta dos Espinheiros: Camp overlooking a gorgeous vineyard in the Douro region. Stunning sunset & sunrise. Toilets are available for campers 24/7. Cost was €30/night includes a bottle of wine and wine/olive oil tasting.
Monte das Louzeiras: Camp among the olive trees at a beautiful vineyard/farm with eclectic hosts and farm animals. Cost was €25/night including the use of toilet, shower (& a pool in summer).
Lima Escape: Camping on the outskirts of Peneda-Gerês, the only national park in the country. Idyllic and peaceful forest setting in the off-season. Cost was €18/night.